Your first move matters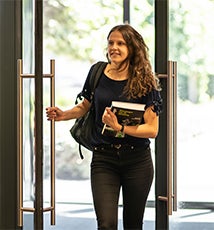 Students
As well as wanting a fulfilling career at a company with great prospects, you probably want to know that you have the power to make a difference. And in this industry, you really can. Because as the world's population grows, as consumers take a stand for ethics and sustainability, as the climate changes, companies like Kramp can help address these challenges.
Intrigued? Good - we love an inquisitive mind. And together we thrive on the enthusiasm of young people, full of fresh ideas.
We offer opportunities to people still studying as well as graduates. There are two typical ways to gain experience before you've even graduated:
As part of a paid internship or final project
As part of a student placement.
Before you've even graduated, we offer you the chance to get involved in the day-to-day tasks and innovative projects in the areas that interest you most.
Working side by side with experienced people in your favoured part of the business.
Learning technical and commercial skills and discovering the difference your work could make to others.
And because we organise your programme around your student timetable, there's no conflict with your study time. Search our student opportunities and apply today.