Ready to make your mark?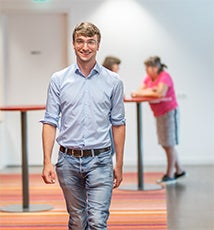 Starters
The first day in a new role is exciting and, for most of us, a little scary, even if you have a few years of experience. Which is why our new colleagues find it so reassuring to find – even on the first day – what a welcoming and supportive company they have joined.
And once you have been with us for a year, if you're ambitious, dedicated and teeming with ideas, you could apply to our Anjo Foundation for funding for further career development.
At Kramp, we open doors and build bridges to a brighter future. Find your perfect first job at Kramp today.
International Graduate Programme
Our International Management Traineeship also takes on a select number of recent graduates for special development. It's a 13-month programme designed to prepare people with promise for a management role. You'll be assigned a mentor of senior management level to guide your development.
You can find more information at International Graduate Programme