Up for a challenge?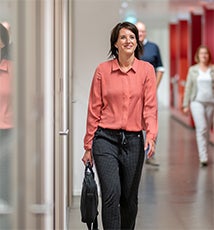 Professionals
You have a few years of experience behind you and a whole bright future ahead of you. You don't feel fulfilledin your current role… Perhaps you're not listened to enough. Perhaps you don't feel that you are given the chance to progress your career – upwards or in a new direction entirely. Perhaps there's resistance to great ideas. Or perhaps you want to be part of a bigger organisation with an international platform, somewhere more dynamic and forward-thinking.
If you're looking for a new challenge – not just a new job – then you probably share our values. Kramp people put the customer first. They engage with each other and our markets. They're always looking for ways to improve themselves and the way we all work. And they know that we're better when we work together.
Does all that sound like you? Then there could be an opening with your name on it. Whatever your profession – whether you work wonders in the warehouse, in marketing, in data analysis, project management, sales or in the devilish technical detail – we want to hear from you. Discover a more fulfilling future today.